Here is your Free Weekly Horoscope from 12th December To 18th December 2022.
Aries Weekly Horoscope:
If you need to make travel plans this week, Aries, this is the week to do it. No matter the location or the amount of time you have to make the reservations, you can manage your time and money very effectively. Aries, you may have been battling with this, but the energy is flowing this week, and soon you'll be receiving confirmation emails in your inbox. Additionally, you might see some beautiful art this week. It's possible that you're looking at paintings to buy as a present or visiting a gallery. One of your children's pieces of art may let you realize how far they've come. Aries, this is a fantastic week to redesign your house and make it look like a work of art. Your imagination will be in full swing.
Love And Relationship Horoscope
Dear Ram, you'll want to keep this idea in mind as the week goes on since sometimes less really is more. While you don't want to fully disappear, keeping your cards close to your chest or being a little less approachable will give your vibe a feeling of mystery. You may have a secret reason for being unreachable, but this week is going to be quite busy in terms of personal commitments. As the planets will request, go out and enjoy yourself with your pals while discussing philosophy. If you look adorable and are having a good time with your friends, this will create the ideal setting for catching your crush's attention via social media posts. Just be careful not to overdo your cunning game of playing hard to get. If you and someone else are actually compatible romantically, you shouldn't ignore them, but it also won't do any harm to let them know you have a full life outside of dating.
Career And Money Horoscope
Aries, get ready for a week that will be all about work! A new opportunity to advance your professional career might have you ready to jump in. There can be a networking opportunity, a connection, or a desire to assume leadership. If you're prepared, throw yourself into your next chapter! You might also need to face any delusions that might make it difficult for you to recognize your career journey for what it really is rather than what you would like it to be. To prevent any further problems, you might need to stand back and make sure you are operating under the proper circumstances. You might even see that dialogues concerning your professional future are developing in a reassuring way.
Also Read: Most Compatible Zodiac Couples
Taurus Weekly Horoscope:
As the week begins, Taurus, you and your partner might have some alone time. You might want to make the most of this opportunity as it might be the last time you have to yourself for a few weeks. And, you might have visitors, kids returning from college, and friends dropping by at odd hours. You and your spouse can get together for some useful pillow conversation, Taurus. You can talk about the tasks at hand and how you can support one another. And as the week goes on, you might be out and about admiring the artwork and handcrafted wood puzzles created in your neighborhood. Taurus, this might be festive light displays, a local club's pageant, or a holiday market with numerous vendors selling handcrafted aprons and delectable jams.
Love And Relationship Horoscope
Before looking for it romantically, you should first look for emotional fulfillment spiritually. As planetary vibrations will support you in developing healthy boundaries and self-love practice. Don't feel guilty about indulging in a little solitary time for introspection because it can assist clarify the direction your future romantic life will take. Additionally, this week has no patience for games, and people will reveal their true selves to you. You should consider it a massive warning sign and leave if your crush isn't living up to your hopes and expectations. On the good side, things may get heated up in the intellectual, physical, and emotional spheres if you get involved with the right individual. Additionally, emotional breakthroughs will occur. You can also use this week to remove obstacles between you and someone you want to get to know better while creating a safe environment for open, sincere communication.
Career And Money Horoscope
What will give you a sense of empowerment in your career and finances, Taurus? You might be unsure about some of your professional commitments as your workweek officially begins. Consider what you will require to feel in control of your ambitions both professionally and financially. It might be necessary to have a conversation with the people who are in charge of enforcing your boundaries. It's possible that you'll need to practice speaking out as the week goes on. So, try to prevent any unintentional foot-in-mouth issues. However, several clinical internships will boost your confidence in your capacity for planning and communication.
Also Read: How To Get Someone To Fall For You, According To Zodiac Signs?
Gemini Weekly Horoscope:
This week, Gemini, you and your romantic partner might be preparing to inform the family of something significant. Gemini, it's possible that you're looking for parental or sibling approval in order to take this connection to the next level. And even if you're relatively confident that everything will go well, there is always a tiny bit of anxiety when you're taking a major step. This week could see several Gemini natives get engaged. You might be elevating social media to the level of art, Gemini. You might be able to produce cinematic-style videos. And, you could record your dog running in slow motion and sync it to music. Or you teach how to construct a pie crust with fantastic sound effects and close-ups of eggs cracking and steam rising from the pie as you take it from the oven. You are going to influence.
Love And Relationship Horoscope
During the first half of the week, you'll probably feel uncertain about the future and how deeply you want to commit to someone. Don't allow someone to push you into going along with them, and keep in mind that it's acceptable to stop in unclear situations. As the week proceeds, you'll feel less in sync with what you desire and the world will drive you to follow your intuition. If something doesn't feel right, don't do it since you will act as an accelerant to your goals, plans, and connections. You'll also need to maintain your personal disposition strength due to certain planetary impacts. A gentle, romantic, and dreamy atmosphere can also be introduced by these planetary influences. You'll get the sensation of floating through the air, making it the ideal setting for a date with your special someone. Use these vibes to drift off and imagine the possibilities of the future if you're not in the mood to get together with anyone.
Career And Money Horoscope
Gemini, make a commitment to changes that will advance your career. Understand exactly what you are committing to. A great moment to take advantage of exceptional or special possibilities to advance your career is at the start of the workweek. It can even provide you the possibility to collaborate with a creative expert who has vast knowledge in your field of work. However, choose the correct opportunity or collaboration. Additionally, make wise decisions because they may have unanticipated consequences that could harm your reputation, achievements, or career. Additionally, as the week goes on, you might feel more confident in your professional judgment. Through reflection, you might uncover something that clarifies how you should go with your profession.
Also Read: How Zodiac Signs Act When They Have A Crush On Someone?
Cancer Weekly Horoscope:
Cancer, you are quite powerful at the beginning of the week. You can complete to-do lists earlier than expected. You can see the solutions to complex issues, and you can assign duties if necessary. You're in the "flow," as they say. If you're at work, you might close a sizable deal, get a note of gratitude from a client, or get a pat on the back from your often stern boss. Additionally, you will be able to write with incredible flair as the week goes on. You are able to articulate your love and gratitude in the appropriate words. Cancer, you'll be able to publish your book or create an essay.
Love And Relationship Horoscope
Cancer, telling the truth is sexy, especially when done creatively. This week, cultivating your expressive side will increase your social attractiveness while enhancing your feeling of self and confidence. No, you don't have to emulate Degas, but some planetary influences on your chart regulate creativity, so you'll be drawn to motivating individuals, pursuits, and endeavors. This week, there may also be an internal struggle, but if you can overcome it and have faith in yourself, you should succeed. Over the weekend, your energy will be exceptionally alluring and seductive. As you're likely to make an impact on everyone you meet, this is also the ideal time for flirting or spending time with your crush. You'll feel connected to the universe and yourself, which will give you a calm aura that attracts people. Just be careful not to surround yourself with poisonous people or negative influences because you'll be extra sensitive to their vibe.
Career And Money Horoscope
What will give you the motivation to start your workweek with enthusiasm, Cancer? At the start of your workweek, look for structure because it will provide brightness with a more melancholy undertone. Even though it is typically more enjoyable to roll with the punches, you might succeed if you stick to a semi-flexible schedule with established habits. Maintaining organization could eliminate any potential problems or ambiguities that might appear later in the week. Your work-life balance could be off if you don't follow a schedule or timetable.
Also Read: 3 Most Manipulative Zodiac Signs
Leo Weekly Horoscope:
This week, Leo, you can overcome challenges, especially those that pertain to your creative work. This can involve creating clay sculptures or crafting an outstanding résumé. You can get professional assistance. This could indicate that you are calling a friend, contacting customer service, or pleading with the Universe to send you a muse. The solutions dance in front of you and follow your instructions. Additionally, this is a good week to establish a spiritual connection if you're looking for love. Leo, you may begin by meditating and sending out a call for love to all the kindhearted folks on the planet. Go out into the world and meet new people while picturing your heart open and prepared to welcome. You have the chance to establish a connection once the conversation starts.
Love And Relationship Horoscope
You'll experience a wild, liberated, and creative state that will enable you to embrace adventure and enjoy time with your companions. Just in time for the start of the work week, you'll also be required to change gears in order to manage your obligations. The first part of the work week won't leave much time for romance, and by the middle of the week, you'll be in desperate need of some downtime and a quiet evening at home. Fortunately, the planets have some entertainment planned for you this weekend. Use this moment to celebrate life and adopt a positive outlook. If there is a certain person you have your eye on, ask them out for coffee or drinks when they are in the mood to say "yes."
Career And Money Horoscope
What will make you happy for the entire workweek, Leo? It's time to take responsibility for a passion project or concept you need to make time for. Take charge of your creative pursuits, particularly if you wish to continue with a project or obligation that you are passionate about. Although some planetary influences do cast a bit of a dizzying spill, it would be smart to uphold boundaries or a plan of action since you might unintentionally invest more into a project than you meant or feel out of control if you work with the wrong teammates. Put your time, effort, and money to good use in order to feel empowered as you seek a creative opportunity at work.
Virgo Weekly Horoscope:
It's quite conceivable that an elderly relative needs assistance, Virgo. You could offer to drive them to their favorite grocery store, dentist's office, or medical facility. A closer connection with this person is ideal at this point. You might wish to start a discussion regarding their upbringing to find out more about their early years. And Virgo, romance with someone you hadn't previously thought about maybe develop this week. You might have refrained because of their way of life, their age, or their distinct religion. But now that you two share so much, your differences are becoming less distinct. You actually appear to click.
Love And Relationship Horoscope
Virgo, this week the world will ask you to pay closer attention to how others are speaking with you since you expect individuals to keep their promises. You should pay close attention to whatever your crush says. If they can't follow through on their commitments, that should raise severe alarms for you. When evaluating others, keep in mind to adopt a practical and reasonable approach. Your high standards frequently keep you out of trouble, but it won't always be obvious when to extend the benefit of the doubt to others. More ambiguity is expected to appear as foggy as the week draws to a close, and this is because of some planetary impact. Right now, it would be simple to lose yourself in romance, and that's fine. Just be careful not to be taken in by any irrational fantasies. It's improbable that what's being said will turn out the way it's intended.
Career And Money Horoscope
This week, Virgo concentrates on maintaining a largely stable work-life balance. Consider what kind of plan or routine you require to promote a healthy work-life balance. Your professional life will be positively impacted by certain powerful forces. So, make an effort to benefit from it. In order to avoid conflicts later in the week, it could be a good idea to uphold your work-life limits or expectations this week. You'll be able to work better if you keep your boundaries. As some planetary hazy influence may manifest as a grey area with a professional commitment or the ability to overbook yourself with work, maintaining your boundaries can aid you in your career. You won't feel overburdened if you follow the structure of your work-life balance to get through this. Fortunately, a chat might alter the way you perceive your career path. Be willing to develop an idea or passion project because it might result in a predestined change in your work path.
Also Read: Most Compatible Zodiac Signs
Libra Weekly Horoscope:
You may have been trapped in bad thoughts, but this week you will be able to break free. Suddenly, the sun is shining, the birds are chirping, and everything seems brighter—even though it may be raining. Thinking positively has prevailed. Your heart also tells you that you are capable of finding love, a better job, and a better place to live. Additionally, you have the chance to adopt a new perspective. You might wish to add some spirituality to your daily life as the week goes on, Libra. Mindfulness is frequently cited as the secret to happiness. This week, try to stay in your body and be aware of your feet on the ground, your clothes touching your skin, and the taste of coffee in your mouth. You'll discover a spiritual treasure if you truly engage your senses.
Love And Relationship Horoscope
Over the next weeks, you'll feel more like staying in. As the week goes on, these feelings will get stronger. The universe will prompt you to consider your future goals, including the kind of romantic relationship you do and do not desire. It's crucial to be extra kind to yourself while maintaining a realistic outlook on your route moving forward because the energy may become a touch heavy while you process your emotions. Finding your own inner stability should come first, and romance should come second.
Career And Money Horoscope
What topics will be discussed this week, Libra? Speak up about a passion project or artistic activity without hesitation. You should continue the conversation about work or with coworkers rather than retreating. At the start of your workweek, let folks know what you intend to develop, investigate, or expand upon. However, be certain of what you are launching because you risk missing some important details. Once you get going, though, you might run into a few murky areas to iron out. Fortunately, there are some planets that will allow you to have a steady conversation regarding the future of your investment. Therefore, benefit from it.
Scorpio Weekly Horoscope:
Scorpio, you might have done extremely well sticking to your spending limit. However, this week something might come up that is both practical and reasonably priced. This week, Scorpio, your guidelines for spending may come under scrutiny. Now is an excellent moment to consider other options for achieving your goals. And as the week goes on, a friend of yours might mention a really intriguing investment to you. This might be something unusual or even exotic, Scorpio. And while you may occasionally enjoy taking a chance, you tend to be dubious when someone portrays such a positive and upbeat picture of the future. Before entering, it would be wise to study the reviews or the prospectus. A leveraged investment is also probably not a wise choice.
Love And Relationship Horoscope
Yes, the proper balance of giving and taking is the foundation of true love. Midweek will be a crucial time to leave the house, especially if you want to stay in rather than pursue your goals or embark on new experiences. Since friendships and leisure are governed by the area of your chart that the cosmic climate will activate, you will have a very strong impact on everyone you come into contact with. You'll be able to play the part of the "dark, mysterious, intriguing stranger" at a party, which is excellent for luring a new partner, with ease. People will want to connect if there is a lingering sensual romance. Even though these new interactions will be fiction, there is a great chance that anything real will result from any amorous events.
Career And Money Horoscope
Throughout the workweek, Scorpio, keep your values in mind. At the start of your workweek, look for safety and comfort. It's the ideal moment to feel confident about whatever you choose to give priority to in terms of your profession and income. Although it may seem strange, you should concentrate on what matters to you the most because it will provide you with more motivation to keep pursuing your financial and professional objectives. You might be shocked to learn that the things you should prioritize this week are your happiness, creativity, and self-expression. The noble aspect of pursuing these enjoyable, creating chances through your field of work, though, should be your main concern.
Also Read: 5 Most Misunderstood Zodiac Signs
Sagittarius Weekly Horoscope:
Sagittarius, you may be given an award at the beginning of the week for outstanding sales or customer service. It's possible for a client to write a positive review of you and send it directly to your manager. You have the chance to take advantage of this kind even if it may not be that unique for you at this point. Perhaps you should have a conversation with your supervisor about getting a promotion early in the next year. Additionally, as the week goes on, you can come to an understanding of your childhood that makes you reevaluate a lot of the long-held beliefs you have. You might realize that a relative was actually attempting to assist you rather than cause you difficulty, Sagittarius. When you believed they were in your way, you could see how they were attempting to keep you safe. Maybe you'll have a revelation.
Love And Relationship Horoscope
This week, you should talk about the things that make you feel safe or uneasy in a relationship. If you have a history of jealousy or are frequently suspicious of your relationships, it would be worthwhile to look into these tendencies more. When you suspected your ex-partners of being unfaithful in the past, were you correct, or were your suspicions motivated by fear? Consider what your potential partners can bring to the table to give you a sense of romantic safety, and then take into account how you might go ahead with these ideals through healthy communication. You will experience a wave of emotions as a result of some planetary influence, but you will be equipped with the means to speak eloquently and professionally. involved. Use this to express your feelings to others, especially if you have had your eye on someone recently. Your presence will be amplified by this energy. Therefore, if you have a social media crush you want to impress, you can do it with a particularly cute post. Bonus points if the post has a thought-provoking aspect.
Career And Money Horoscope
This week may be your chance to make an impression at the workplace! When you raise your voice in a business atmosphere, your employees are prepared and eager to listen to you. Additionally, you could discover that when you take the initiative in professional conversations, you shine more than ever. Your confidence, distinct viewpoint, and authority are much valued, so lean into it! However, you might need to set stronger limits in both your personal and professional life, not only for yourself. If you are not attentive, these planetary effects could skew your work-life balance. Therefore, be careful to uphold your boundaries in order to keep your regular timetable.
Also Read: Least Compatible Zodiac Couples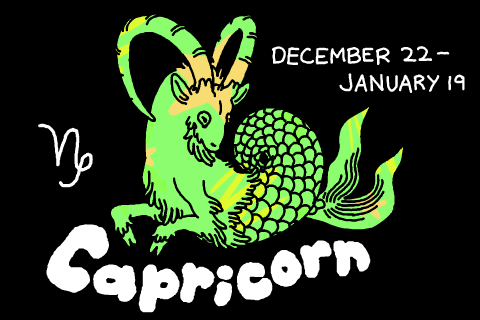 Capricorn Weekly Horoscope:
This week, Capricorn, you're making a spiritual connection with a higher power. You might make the decision to practice morning meditation at the beginning of the week. Open your gratitude journal each evening and record your reflections. To ensure the success of your company, you can burn a green candle before you get to work. To attract love, you may put a drop of vanilla in your coffee. A little magic might be appropriate right now. You may hear messages of a spiritual kind as the week goes on. Your third eye is now receiving information from numerous sources as a result of the floodgates you opened. You could have a fascinating dream, witness animal symbols, or come across pairs of numbers everywhere you go.
Love And Relationship Horoscope
Try to plan some time with that special someone in the beginning of the week if you want to connect with them more deeply. The key will be to do it subtly if your goal is to truly get your sweetheart out of their shell. Instead of pressuring someone to open up to you, schedule a casual encounter in the open instead. The goal is to make the environment welcoming so the person you wish to connect with will feel comfortable speaking with you. You'll notice a gentle excitement developing during the week, and individuals will be eager to get away from their regular routines. Given that these vibrations can severely dissolve stress, you should take advantage of this moment to do some major self-care. However, don't completely stop communicating because these feelings will add a lyrical quality to your language, which is guaranteed to pique the interest of whomever you choose to flirt with.
Career And Money Horoscope
Capricorn, take a step back and consider what you need to concentrate on. Consider what you should put your attention on to feel safe and comfortable in your job and financial situation. Although the start of your workweek is contemplative, it could help you become more aware of the goals you need to pursue to feel more stable both financially and professionally. You can even discover that your subconscious perception has a significant impact on how you perceive your security. As the week goes on, it might not be appropriate to express your views or emotions since something might be lost in translation and mislead you. You might wish to keep silent rather than engage in a convoluted dialogue.
Also Read: Most To Least Mysterious Zodiac Signs
Aquarius Weekly Horoscope:
Aquarius, a buddy may require your assistance at the beginning of the week. Furthermore, since they don't ask questions frequently, it would be prudent to pay attention when they do. You might be needed to mind their dog or pick up their youngster from school, Aquarius. Even though you will find the process to be relatively simple, they will be extremely appreciative of your assistance. You might enjoy delivering gifts, and this year you're packing your metaphorical sleigh as the week goes on. It's likely that your holiday happiness is a touch out of control. Today, Aquarius, there are no restrictions on your spending, and you might be going all in since it will make someone smile. Your generosity is limitless right now.
Love And Relationship Horoscope
At the start of the week, you'll have an introspective mindset. The past's pain or romantic paranoia may find its way to you, but in the end, you have to be able to calm yourself out of any unfavorable feelings that arise. You may experience a shift as a result of the planetary influence that will intensify your desire for a mate. If you're not careful, self-doubt or hesitation about realizing your dreams could hold you back as the week goes on. Don't strain yourself to achieve any objectives. Instead, make the most of this time by coming up with modest measures you can take in the desired direction. It will be crucial that you organize your personal affairs. Give yourself a large pep talk before going out to any social events since the more confident you feel in yourself, the more likely you are to have positive love experiences.
Career And Money Horoscope
Is it time for you, Aquarius, to pursue your career goals? You might feel more in line with your goals and the larger professional community at the start of the workweek. Consider who or what motivates you to develop professionally. As you join up for networking events, communicate with coworkers, and dig into your dreams, you might feel especially confident. Keep in mind your goals, nevertheless, and do not lose them. Whatever you decide to pursue is worthwhile and has the potential to be a tremendous advantage in your professional life. Therefore, as you go forward, try not to panic or let anything affect your judgment. However, as you discuss your job goals and work-life balance later this week, you might feel more stable.
Also Read: 6 Most Untrustworthy Zodiac Signs Who Can't Keep Secrets
Pisces Weekly Horoscope:
Pisces, at the beginning of the week, you might get some praise from a significant person at work. This might come from your supervisor's boss or someone even more senior, Pisces. This may be a result of the positive comments you're receiving from customers or employees. It's also feasible that you're impressing the hiring manager during your job interview. You are advancing in your job right now. Additionally, as the week goes on, you can receive a lot more social media views than you anticipated. You might reach a milestone and start making money from your YouTube channel, Pisces, or you might find that a local celebrity is starting to follow your social media updates. And the world will hear what you have to say.
Love And Relationship Horoscope
Particularly when it comes to attracting healthy partnerships, the planetary placement is ideal for communicating with the world and the universe. Just keep in mind that improving oneself and finding inner serenity are essential components of evolution. On the other hand, you will spend the majority of your workweek cultivating social positivity and good fortune. Your aura will have an incredible shine that will increase your charisma to new heights. This is the perfect opportunity to flirt with anyone you have your eye on.
Career And Money Horoscope
It's time to concentrate on your professional future and legacy, Pisces. You might feel a little uncertain at the start of your workweek about your capacity to assert yourself when working with some influential people in your sector or area. And, you should step into the spotlight rather than limit your potential to shine for your successes and accomplishments. You should be in the spotlight next to influential people in your industry! As the week goes on, you should be cautious and have a clear notion of how you want to present yourself. To make sure that you are doing so, keep a positive but realistic view of yourself in a professional setting.
Also Read: Most To Least Possessive Zodiac Signs