Here is your Free Weekly Horoscope from 19th September To 25th September 2022.
Aries Weekly Horoscope:
Aries, the coming week will start out with a very emotional feeling. You'll have more empathy and expression. You can enjoy yourself and be impulsive as the week goes on, but don't jump into anything hastily. Your disappointment may result from your dreams not coming true. Take the appropriate steps in that direction so that you can succeed in practical matters by the end of the week. During the weekend, take extra care with your interpersonal ties.
Love And Relationship Horoscope
You will have the opportunity to directly experience your partner's emotions this week, which can be rather positive for you because it will make you feel significantly closer to them. You'll be energetic and available for games and fun. Your self-confidence can be a little low around the middle of the week, so take precautions. To keep harmony in your partnership during the weekend, communication will need particular care. Enjoy yourself and show off your sense of humor.
Career And Money Horoscope:
Things will go smoothly for you after midweek because you'll be careful and ambitious. When you pair this with your feeling of accountability, you will accomplish significant things at work. Move with energy and don't let your fear of being rejected hold you back. Keep a cool head and a practical approach to your finances.
Also Read: How to Attract an Aries Woman? Find it out
Taurus Weekly Horoscope:
Taurus, your week will get off to an emotional and fun start. At the same time as you become more assertive and demanding, you will be in touch with your emotions. While you may be serious and quiet, you also likely have a propensity to doubt your own talents and feel inferior to others. If you exercise caution in your love life throughout the weekend, you will have lovely moments. To spend your time creatively, you can have fun, be amusing, and use your creativity.
Love And Relationship Horoscope
The week will get off to a great start, bringing you closer to your spouse and allowing you to have stimulating conversations with them. Enjoy the full sensations in the air, but keep your enthusiasm in check because it sometimes doesn't lead to the outcomes you want. The mood between you and your lover will be intense toward the end of the week. If you're single, this is the perfect opportunity to approach someone you're interested in.
Career And Money Horoscope
In the current week, no significant challenges are anticipated. Tuesday is a good day for communication, so you can have engaging conversations. You are straightforward and honorable, radiating respect. On Wednesday and Thursday, exercise caution while being responsible and practical. Get rid of your insecurities. Don't let your emotions interfere with your financial decisions.
Also Read: How To Attract A Taurus Man? Find it out
Gemini Weekly Horoscope:
This week will be rather up and down for you, Gemini. Positive influences will coexist with more unfavorable circumstances. Your emotions will be the deciding factor in whether or not you can coexist peacefully with others. You'll be impulsive and frank with your emotions. Utilize the beneficial aspects while limiting the negative influences. In addition to feeling stable, ambitious, and responsible, you will be able to approach the person you are interested in. Make sure to increase your self-assurance and manage any strain. Enjoy the opportunity to have some fun that the weekend presents. Your relationships get stronger, and you'll have some romantic moments during the weekend.
Love And Relationship Horoscope
Take this week as an opportunity to enjoy yourself and breathe new life into your relationship. Positive vibes will increase your impulsivity and sincerity. Now, you and your partner may have critical conversations and work out problems that interfere with your daily life. Directness and honesty will improve the atmosphere between you. Avoid being excessively impulsive since doing so will prevent you from seeing reality clearly. You may have unrealistic expectations.
Career And Money Horoscope
Keep your composure at work and avoid letting your feelings push you into unreasonable circumstances. Avoid being impulsive, and if you must schedule crucial meetings, do it before the start of the week. There will be strain and stress following its midpoint. You need to discover a strategy to maintain balance in your finances. The reality might not match your expectations.
Also Read: How To Attract A Gemini Woman? Find it out
Cancer Weekly Horoscope:
Cancer, this week won't be wonderful, but it won't be terrible either. You'll have a tendency to concentrate on your emotional and mental state. While it's excellent that you can sense those around you, you run the risk of becoming obnoxious. You run the risk of being branded as foolish and naive if you act foolishly. You should do this in the middle of the week if you want to examine some concerns with caution and rational thought. It is a good idea to meet and talk about critical topics on Tuesday because that day is more conducive to dialogue.
Love And Relationship Horoscope
If you cease being rigid and unreasonable with your lover, you will have a good week in your romantic relationship. The start of the week is predicted to be really favorable since the planetary alignment supports emotion, love, and tenderness, and generally gives you the boost you need to advance in your relationship or approach the person who makes your heart race. Take advantage of Sunday to go for walks and have passionate moments because the week concludes in the same, lovely way.
Career And Money Horoscope
Never allow your mood changes to have an impact on your work. Utilize your capacity for dealing with adversity and rise to the occasion with poise and vigor. Maintain your composure when using the additional functions that the planetary setting provides. It won't be the best time to work or handle money matters at the end of the week. Your tendency to daydream and your emphasis on imagination do not assist you in setting practical goals. Maintain your attention.
Also Read: How To Attract A Cancer Woman? Find it out
Leo Weekly Horoscope:
Leo, the beginning of the week won't go as well as you had planned since it will put a lot of pressure on your mind and make it difficult for you to make decisions. Nevertheless, Tuesday will be more active, enjoyable, and better all around. In the middle of the week, exercise more restraint and self-control. You'll have a propensity for expressing unreasonable phobias and becoming quite emotional. You'll be self-assured and creative on Friday, which will make it a great day for talks. The week will come to an optimistic and enjoyable close. When experiencing delays, maintain your composure; everything will work out.
Love And Relationship Horoscope
You should exercise caution in your romantic relationships as the middle of the week will bring you tensions, annoyance, and a propensity to quarrel. In order for your partner to understand you, keep your composure and attempt to express your sentiments in a straightforward and sincere manner. The best days to schedule a romantic evening with your significant other are Tuesday and Sunday. On these days, you'll be able to express your feelings and thoughts subtly, and your optimism and good mood will help you set a romantic tone.
Career And Money Horoscope
You will have the option of setting up meetings that will strengthen your partnerships. The best day for that is Friday, and Monday should be avoided at all costs. You can't think properly and correctly when you have a romanticized perspective on the circumstances. On Friday, however, you will have flexibility and self-assurance that will make it simple for you to handle any difficulty. Be prudent with your money and avoid impulsive purchases.
Also Read: How To Attract A Leo Woman? Find it out
Virgo Weekly Horoscope:
You will be demanding and pushy at the start of the week, Virgo. It will also offer you the dynamism you need to deal effectively with challenging circumstances. The entire week will be spent with this mentality. You'll be able to act flexibly and with confidence starting on Friday in every area of your life. You can passionately claim everything you deserve. You will have overcome some challenges during the weekend, which will make you feel excellent.
Love And Relationship Horoscope
Avoid conflicts and tensions that the planetary setting during the middle of the week may bring about by exercising caution. If you want to unwind and have fun with your lover, Sunday will work well. Join your friends on a date if you're single. Who knows, maybe you'll run across someone intriguing who will catch your attention.
Career And Money Horoscope
This week, you need to exercise caution. Avoid having discussions or deciding things that you won't be able to stand by later. Your perspective is hazy, and your judgment is compromised. Remain composed during the middle of the week because you can become irritated by some things. Don't take any financial actions that you could later regret. Stay cautious.
Also Read: How To Attract A Virgo Woman? Find it out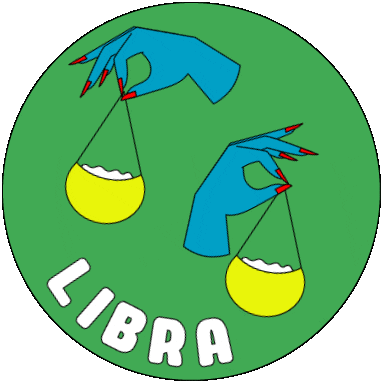 Libra Weekly Horoscope:
Libra, It's likely that this week will fluctuate. On the one hand, you'll feel strong emotions that will make it difficult for you to think rationally. You have the chance to view things from other people's perspectives, of course. Avoid making hasty decisions and, in general, avoid acting in a way that has not been thoroughly thought out. Be sure to keep your confidence and self-control. Making decisions is likely to be impeded by your fear of being rejected. The week's end, though, will bring rewards. Despite the challenges, it will give you a positive outlook, a sense of humour, and other qualities that are great for getting along with your dear ones.
Love And Relationship Horoscope
You have the support of the planets in your love life, allowing you to communicate with your spouse and work out problems in your relationship. You will be able to recognize what you actually feel and to communicate it with sincerity and dignity. You have a propensity to become distracted by your dreams, so be careful to stay focused. This is beneficial for your love life in certain ways, but if you're single and seeking for a relationship, you run the danger of becoming a victim of fraud.
Career And Money Horoscope
Keep your feet firmly planted on the ground and refrain from daydreaming while at work. Utilize the planetary setting's stability and self-control to your advantage and work diligently to further your objectives and career. The weekend will be perfect for reviving and renewing. Make fresh plans after evaluating the existing circumstance. Spending too much money could lead to you losing control due to your positive attitude and desire for pleasure.
Also Read: How To Attract A Libra Woman? Find it out
Scorpio Weekly Horoscope:
You'll become more outspoken and in touch with your feelings this week, Scorpio. Your secrecy will intensify and become more blatant. In the days to come, be careful because you won't realise the truth because your head will be in the clouds. Your unrealistic expectations could leave you feeling let down. Deal with your insecurities and use your positive attitude as an opportunity to have some fun. You'll have a positive attitude and be eager to have fun on Sunday.
Love And Relationship Horoscope
With the help of your restraint and your sharpened instincts, you will be able to clear some issues in your love life with your partner. You'll be able to comprehend both their motives and manner of thinking. Don't allow your imagination run wild and make up scenarios because if you do, you'll be the one who gets duped, and it'll be your fault. Keep your eyes open and relax. Keep things simple, and you'll have a good time, especially on weekends.
Career And Money Horoscope
Around the mid-week, some problems could surface that are characterised by a high level of irritation. Maintain self-control, and your coworkers will treat you well. You must show focus, accountability, and restraint. Then and only then will you be able to steer events in the desired direction. Your mood and the ways it influences your spending will have a significant impact on your finances.
Also Read: How To Attract A Scorpio Woman? Find it out
Sagittarius Weekly Horoscope:
This week, Sagittarius, you'll become more outspoken and your perception and judgement will be sharpened. Your emotions will also be strong, and if you don't keep your attention on your objective, they can lead you astray. Tuesday will be an emotional, vibrant day with lots of playfulness to break up the usual. You will hit the ground running after the middle of the week and perhaps even experience a little lack of confidence. The results will depend on how you respond to this.
Love And Relationship Horoscope
You'll feel a lot of emotion, which isn't always a positive idea. You must maintain control because doing so could cause you to exaggerate and become insecure. You will be in a good mood, joyful, and optimistic at the conclusion of the week. To strengthen your relationship and have fun with your spouse, use these uplifting feelings. Go out with pals and try to woo the opposite sex if you're single.
Career And Money Horoscope
Early in the week, you'll be able to make quick decisions. Take use of this to carry out your plans, push the proper individuals, and reap the rewards of your hard work thus far. If you act intelligently and confidently, even negotiating will seem easy. Exaggerating in your finances won't help you achieve the desired harmony.
Capricorn Weekly Horoscope:
Capricorn, there will be a lot of emotion and insecurity this coming week. You'll probably admit to having poor self-esteem and a fear of being rejected or failing. Use your logical reasoning and the steadiness that you possess to regulate your irrational thoughts. At the same time, make the most of the weekend to laugh, joke, show your affection, and generally lift your spirits. With patience, you'll be able to get through certain challenges.
Love And Relationship Horoscope
You need to invest a significant amount of time in your relationship and overall love life. You don't need to waste your time and effort on unimportant issues. Otherwise, you'll increase any tension that might develop in the mid-week, which will lead to conflict. Unwind a little, regain your confidence, and enjoy yourself with your mate or with excellent company.
Career And Money Horoscope
You'll have a hectic week at work, and numerous problems will need your attention. You can put everything in place if you have patience and good planning. On practical matters, it appears that you'll find success by the end of the week. Generally speaking, you should manage your emotions and avoid letting them guide you. This also holds true for your financial situation because it calls for discipline and careful planning.
Aquarius Weekly Horoscope:
You will become more assertive and demanding this week, Aquarius. Your days may be a little more challenging because your emotions will be stronger than usual. Enjoy every opportunity for pleasure and relaxation you obtain throughout the week since they will relieve tension. Deal with the challenges that will come around the end of the week with caution. You will be able to get beyond them and enjoy some quiet family time on Sunday because of your optimistic, amusing, and amiable attitude.
Love And Relationship Horoscope
If you decide to be open and forthright, your days can be entertaining. There will be times when you feel powerless to stop your feelings from taking over. You will also get the opportunity to speak up front and without hesitation, so make the most of it. Regardless of your romantic situation, you should follow this advise. If you want to make your relationship better, talk to your partner. This strategy will help you save a lot of hassle if you are single.
Career And Money Horoscope
This week, you might experience some difficulties communicating with your coworkers, which could cause your plans to take longer to materialise. Maintain your composure. To restore control, use discipline and self-control. Move logically in your financial decisions and avoid letting emotions get the better of you.
Also Read: Zodiac Signs Who Are Attracted To Aquarius
Pisces Weekly Horoscope:
Pisces, the current week will be turbulent for you as the planets exert both positive and negative impacts on you. New partnerships are not encouraged, and in your romantic life, you must use reason to restrain any unfavourable emotions that might surface. Expect challenges and delays on weekends. You can get through them with patience and discipline and enjoy a laid-back Sunday with your friends and family. Additionally, today is a terrific day to show your interest in the person you share your life with or in someone else.
Love And Relationship Horoscope
In the week, emotions will be strong, and they may cause you to react in ways that show your love and interest while also being excessive and exaggerated. Don't let exaggerations ruin your relationship by losing control, approaching your partner, or being secretive about anything that upsets you.
Career And Money Horoscope
If you can maintain self-control this week, your professional matters should proceed smoothly. If you want to win in negotiations or advance your collaborations, you must be concise, direct, and decisive. Since you're likely to lash out, try to act decently at all times. You will feel a great deal of pressure from the planetary alignment. You need to be prudent and have a solid plan for your finances. Stay on course, and everything will work out.
Also Read: How To Attract A Pisces Man? Find it out